It seems that I'm always traveling to find Bald Eagles, but I was taking a local road a couple of weeks ago and saw a large number of them in trees along one of our local estuaries. I mentioned it to a friend who's on the board of the local Audubon Society and he told me the Christmas bird count came up with 150 in that area. I wrote to one of the local land owners and got permission to photograph from his property. Unfortunately, I didn't see this phenomenon until the tail end of the salmon run that the Eagles had assembled for. I managed to get out there in decent light this morning, but there were probably no more than a dozen eagles hanging around hoping for a carcass to show up as the tide went out. I did get a few decent flight shots and some other birds that I liked, but this one perched in a very typical Northwest coastal habitat really appealed to me, so its the first one I've processed.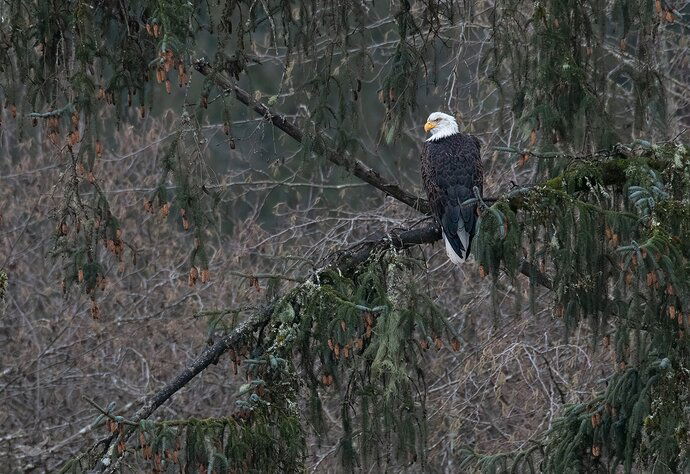 What technical feedback would you like if any?
Anything you notice.
What artistic feedback would you like if any?
Anything.
Any pertinent technical details:
7DII, Sigma 150-600 C @ 600 mm, tripod with ball head, f/8, 1/400, iso 1000, manual exposure. Processed in LR & PS CC. Topaz AI Clear for noise reduction. Cropped to 8.9 MP. Taken at 11:10 am.
You may only download this image to demonstrate post-processing techniques.