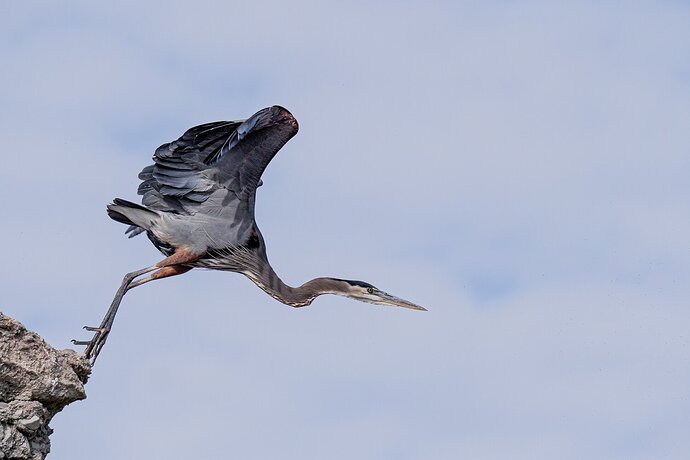 With suggestions from Guy on the crop and emphasizing the graphic quality and graceful lines of the bird, I had another go and here it is -
It was also looking kind of muddy to me, so I played with some whites and highlights and the midtones. Also brushed darkened the shadow of the wing on the neck. Brushed clarity & texture on the face. Radial filter around the eye to brighten it. Added some exposure and took down the noise under the wing that got sharpened by Topaz. Dammit I want them to fix the masking so I don't have to put up with this. Anyway…
The birding boat outing with Ted & Diane offered many looks at herons - this one takes off from a cliff on the shore of Lake Pleasant. It is one of the darkest GBHs I've ever seen and unfortunately I underexposed it kind of badly, but hopefully my rescue job is effective. I'm a hopeless…well, hopeful noob when it comes to bird photography so I think this is one of my better efforts.
Specific Feedback Requested
Anything useful is welcome
Technical Details
Is this a composite: No
Handheld in the boat driven by Ted - animal detection & continuous auto focus
Lr for a little crop (not much) and a whole lot of exposure, texture & clarity, a little dodging under the wing. Plus some sharpening in Topaz (before the new update which just constantly crashes and won't work at all…grrr).
@the.wire.smith