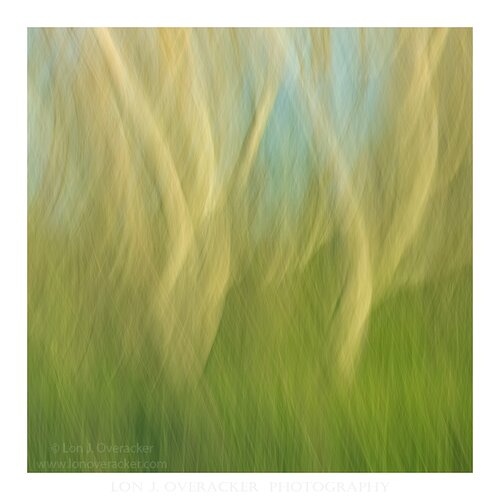 Critique Style Requested: Standard

The photographer is looking for generalized feedback about the aesthetic and technical qualities of their image.
Description
Hot off the press. I just captured this on Sunday when I decided to take a walk in our local park after the sun finally showed itself for an afternoon. It was a beautiful day and it felt great to be out. This park is one of the very few with a great concentration of California Sycamore trees. It had also been closed and experienced flood damage and so I was curious what I could find. I thought ahead of time the sycamore trunks in afternoon light might be a good subject for ICM. I like how this one came out.
Specific Feedback
All comments and suggestions welcome. In processing the intent was to keep this light and airy a bit, so it's a bit more pale and unsaturated. I'm wondering about the WB. I cooled it a few points in ACR, but still not sure. I think the patch of blue helps.
You impressions as well beyond any technical suggestions. Thank you!
Technical Details
Nikon D800E, Tamron 70-200mm/2.8 @86mm f/18 1/4 iso 71 and I believe I had a variable ND on there since it was still bright out. Single handheld frame on a vertical motion with a little "shimmy-shake" on the way up. that's how you get the verticals to do a little dance I've figured out. Well, also the trunks are not quite straight either, so that helped.