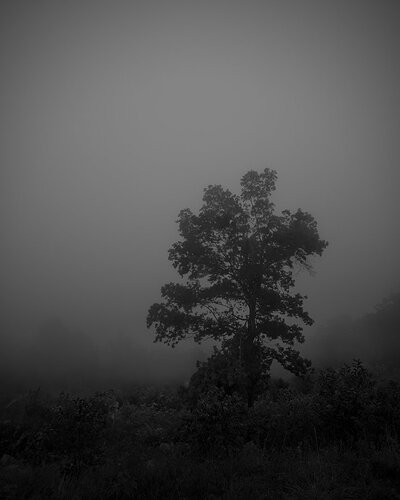 All,
I took this Saturday. It was foggy in the mountains with made for some exciting woodland photography. This scene isn't normally all that exciting, but the fog created an ethereal, abstract environment that I really enjoyed.
This was basically B&W off the camera, so I converted it to B&W. I've recently been shooting with my EVF in B&W to see if helps with composition. So far, I think it does.
I'm pretty happy with the overall look and feel of this. I took a horizontal and a closer vertical, but I didn't like them as much as this one. I feel the negative space around the tree helps the image feel more peaceful.
What technical feedback would you like if any?
Anything , but I'm mainly after artistic feedback.
What artistic feedback would you like if any?
This is what I'm going for! How does it make you feel? I'm going for peaceful and pleasant. I remember reacting to how vast the fog was as it surrounded the tree. It was tranquil.
Pertinent technical details or techniques:
Single Raw image, LR only, handheld, a7riii, Canon 17-40L, 17mm, f-4.0, ISO 100, 1/400 Second, no filters.
You may only download this image to demonstrate post-processing techniques.