Hi Everyone,
Here is, truly, my last image shared from the Moab area trip in March/April.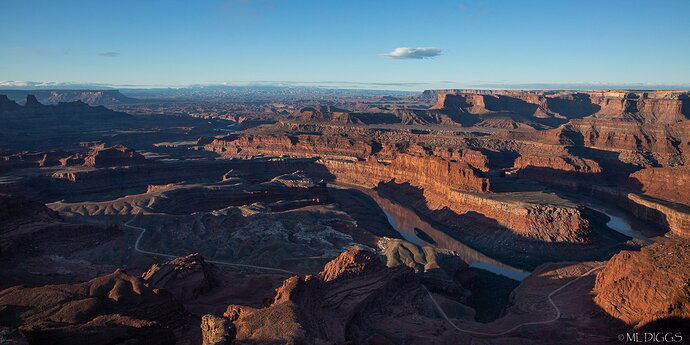 This is, I think, my favorite of the wider views from Deadhorse Point. The light and mystery are not as compelling as in the pre-dawn image, but this is a result of my rather late realization that the juniper tree didn't really make the image stronger. This is a different frame than the one with the juniper, and I processed it to make the reflection a key element. Let me know what y'all think. (Pardon all the self-referential links in the passage above, but feel free to compare).
ML
What artistic feedback would you like if any?
Does the wider comp work, or is to too heavy on the right?
Pertinent technical details or techniques:
(If this is a composite, etc. please be honest with your techniques to help others learn)
Single exposure processed in LR
If you would like your image to be eligible for a feature on the NPN Instagram (
@NaturePhotoNet

), add the tag 'ig' and leave your Instagram username below.
You may only download this image to demonstrate post-processing techniques.