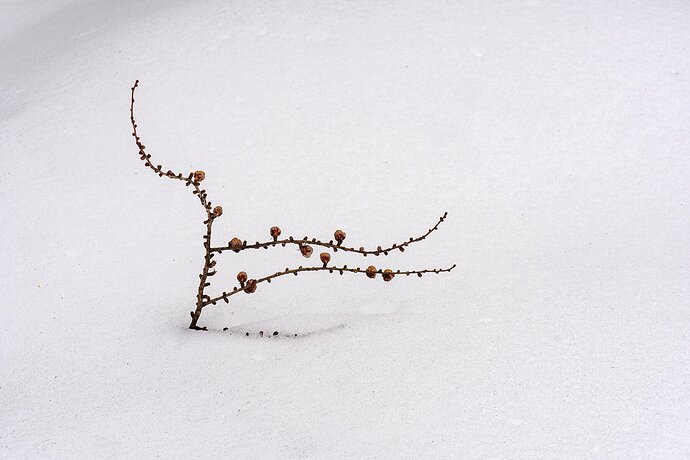 With the corner cloned -
With corner cloned with more focus consistency -
I got out yesterday since it was a balmy 32 degrees. Snowshoes again and this little plant stopped me in my tracks and made me do tripod contortions around a tree to get this shot. I wanted to get the branches separated and flowing in a way that showed the best against reasonably clean snow. I think it's a tiny tamarack pine sapling, as I was in what I think is a semi-bog with what I think was black spruce and definitely white cedar as the primary tree species. Everything else was basically buried. Possibly something like leatherleaf was showing, too, which makes a bog more likely.
Anyway…I love it for all the reasons I love winter minimalism. Plus I think this one looks graceful, like a ballet dancer and so the title.
Specific Feedback Requested
Open to any feedback - I did clean up the snow, but not to a perfect clean slate as per something Tony Kuyper mentioned about one of my other shots like this. Does it add verisimilitude and does that improve the image?
Technical Details
Is this a composite: No
Tripod
Lr for initial RAW development, but it just needed a nice curves layer and raised shadows to bring up the detail in the plant and branches and the little seed cones. Slightly cropped to 2:3 ratio. Dehaze applied to bring out the texture in the snow a little. Photoshop to clean up that snow, but left some little bits here and there.
@the.wire.smith