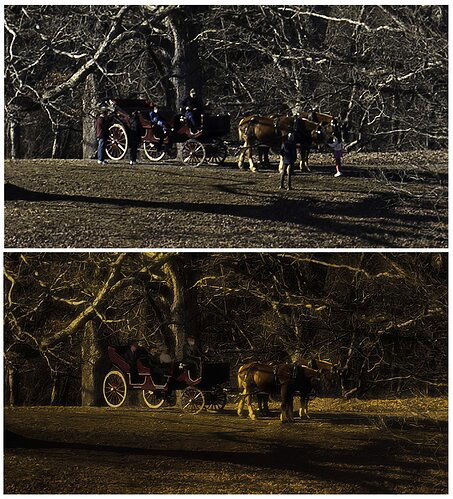 The top image is one of the landscape images I captured while at the Biltmore Estate in Asheville, NC last month.
The main attraction for me was the carriage, horses and the people.
That scene is rather boring except for the carriage so I felt like a bit of contrast and saturation would help it out a little.
I feel that grand scenes like iconic mountains or mountain ranges rarely need any help in the way of contrast or saturation (other than corrections) , however, scenes like this need a little help IMHO.
I used to do a lot of work for a local artist (one that used real paint and canvas) but he was not able to paint from visions in his head, he could only recreate what he saw from a photo or other art so he hired me often to create scenes he described and by using photographs that I put together in the form of composites, as well as hand painting using photoshop tools (using the original version of Photoshop). Some of my old work had as many as 300 layers.
My photo art skills have been dormant for many years so I decided to try and wake them up on this image, yeah, they're still not awake.


Actually, this wasn't the best image to work on, it needed to be a path with the carriage headed towards an old farm style house but this was good enough until I can put together a better scene.
Also, the base image was really taken during the wrong time of day for the best light transformations into the second image.
The second image is actually a composite but only the people in the carriage, and the results of that can be seen in the over/under comparison image (third image).
The people are from my archives, they are from photoshoots I did at horse shows long ago.
There were many processes to get the second image to where it's at and it may be too long to explain in detail here but I will if anyone is interested in knowing.
Type of Critique Requested
Aesthetic: Feedback on the overall visual appeal of the image, including its color, lighting, cropping, and composition.
Conceptual: Feedback on the message and story conveyed by the image.
Specific Feedback and Self-Critique
Personally, I enjoy creating photo art in this way, it is my only way of doing so since I can't use an actual paint brush and real canvas in any meaningful way. I like this image but it really falls short of what was my "Usual" work, hopefully I can be better than I used to be with modern Ps and Lr tools.
Basically, I just want to know what you think of the overall appearance and I was just wanting to share the technique so others may be able to envision their own potential scenes.
Technical Details
A7R IV, 90mm Macro, 1/124s, f8. ISO 125, Lr, Ps.
Edit: I just noticed that the compression from uploading to NPN really dampening the effects quite a bit compared to the original. (it was 2.2 MB but now compressed to 826KB)