Specific Feedback Requested
All
Technical Details
Mavic 2 Pro / Nisi Landscape polarizer. HDR panorama, stiched in Photshop
A great scene with interesting patterns and great sky. But what I like the most are the colors.
Excellent image. This is certainly one that many magazines would want to have. The landscape is interesting and you have great lighting, clouds, and colors. The white sand patch in the bottom left bothered me a bit so I tried to crop it out but that hurts the composition. I therefore would clone it out as I have clumsily done.
Hi Jorma! This is a very cool image. I love it! It has so much to offer and holds my attention very well. Great clouds and mountains, beautiful water with a perfect reflection, the ship moving up river towards the village, then the main actor - the river delta. All are in sharp focus and beautifully captured. Well done!
Wonderful Drone image Jorma. Very icelandic looking. I'm with @igor about the LLC grabbing my eye. Easy enough to tone that down. The lateral movement across the screen of the rivulets I thought would pull my eye right off the page but there is so much going with this image that it really doesn't. Very engaging. Love the colors too.
Thanks guys for nice feedbacks! I had already noted that bottom corner and it was improved in the second version. There is endless filming in that river delta and I was thinking of going there again this weekend when it looks like there will be a thunderstorm on sunday.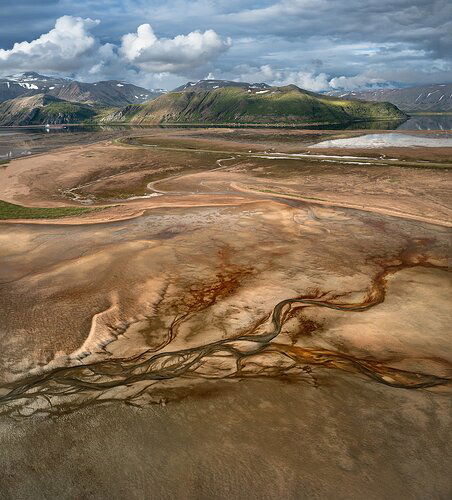 Outstanding… the bottom half would be a superb image on it's own.
Jorma, great image. Such interesting shapes in the foreground. I agree with the llc edit. I think that looks better. I also agree with @Dan_Kearl that just the bottom half on its own would be an interesting image. Thanks for sharing!
Awesome aerial image, Jorma. I have that same drone and love what it can do. This is a beautiful example of how you can create a wonderful landscape while flying. Well done!
I don't know what is more amazing – the IQ of these images, or the points of view you can get! This is fantastic but my first thought was what you could do working that area at the bottom, shooting almost straight down. Such gorgeous lines and textures!
Such a beautifully arresting image, Jorma! There's a lot of motion to this which I love! I also love how the bottom half looks so abstract against the classic looking mountains and sky landscape. What a great sweeping view you can get with a drone. Beautiful capture of a beautiful place!
Jorma,
Fantastic landscape image! This has it all including a wonderful landscape image just in the upper third with the dappled light, the water/reflections and the terrific sky. And the top part is only an accent to the entire image! The bottom have is a wonderful, natural abstract with the lines, "veins" and all. Just a wonderful image all the way around. Excellent processing as well.
I do like the repost a bit better after you addressed the light areas at the bottom. Not a huge thing, but an improvement IMHO.
Beautiful!
Lon
I am really enjoying your image Jorma. Your rework looks great. I also like your more abstract image.