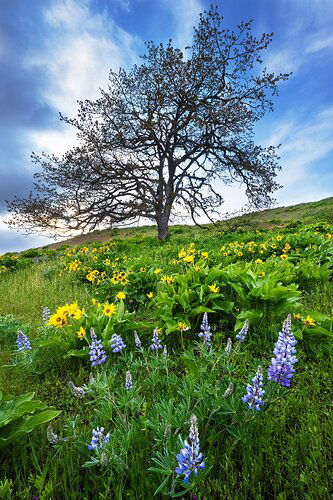 Image Description
This location is in the eastern section of the Columbia River Gorge on the Oregon side. I spent some time searching for a comp with the lupines and balsam root in the foregrond with this stately oak tree in the background. The weather was changing quickly and the primary destination on this hike was at the top of the hill in the background, so I was working fast. This is a focus and exposure blend (three frames).
Specific Feedback and Self-Critique
Looking at the comp, the trunk of the tree is dead center, but the branches go all the way to the left of the frame, which I don't like. The foreground is more balanced but I could improve on it as well. I don't like the leaves coming into the frame in the LLC, but trying to remove them did not work. Also, I tried to lighten up the tree a bit, so that it wasn't completely black, but I could work on that a little more. Also, in hindsight I should have shot this at f/16 instead of f/22 to use a lower iso and improve sharpness.
Technical Details
Nikon Z7ii, Nikkor Z 14-24mm, f/22, 1/100, 1/100 and 1/250, ISO 800. Processed in ACR and PS. I applied a little bit of an Orton effect.